2016 Hyundai Sonata Hybrid For Sale in Virginia | VA
Check Out the 2016 Sonata Hybrid Today!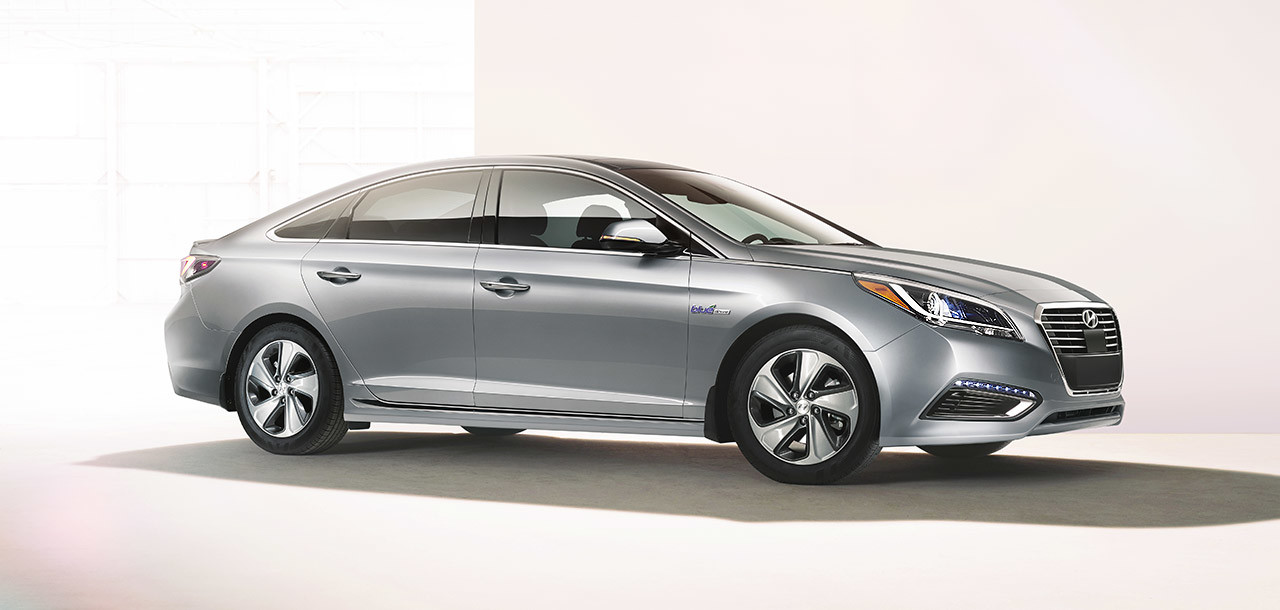 The next big thing in Hybrid cars has arrived! The newly announced 2016 Hyundai Sonata Hybrid for sale in Virginia at Pohanka Hyundai of Fredericksburg is not only highly fuel efficient, it also boasts a redesigned exterior, tons of storage space, premium features, and the latest in safety technology. With so many great qualities, it just may be the Hybrid you've been waiting for.
Under the hood of the 2016 Hyundai Sonata Hybrid is the newly redesigned 2.0L 4-cylinder engine that runs on regular gasoline and offers Gasoline Direct Injection for smooth acceleration and efficient cruising at an EPA-estimated 44 highway MPG1. The Sonata Hybrid switches between this engine and an electric motor to deliver efficient power. This engine also delivers the primary energy charge for the lithium polymer batteries while the regenerative braking system captures this energy to convert it into electricity.
The restyled exterior of the Sonata Hybrid features a larger front grille design, a unique front bumper, distinctive headlight graphics and wheel designs to make it stand out from other cars on the road. At the rear, there's an aerodynamic bumper with distinguishing tail light and lower valance designs. The rear also features hands-free smart trunk that opens automatically when it senses the Proximity Key within three feet from behind for more than three seconds.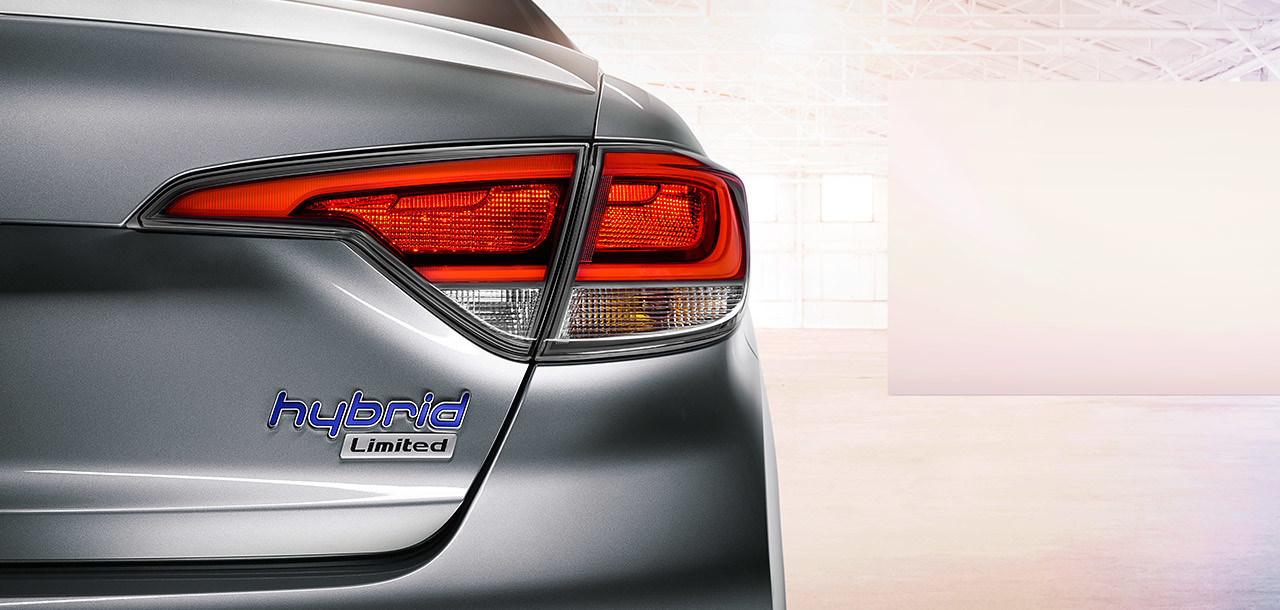 The 2016 Sonata Hybrid has more total interior volume than what you're used to from other Hybrids. The Hybrid battery pack is hidden under a flat trunk floor to increase the usability of your spacious trunk. Plus, there's available 60/40 split folding rear seats for more space and more convenience when it comes to cargo.
When you open the door of the Sonata Hybrid, you'll be greeted by premium features that are both luxurious and keep you connected to the outside world. Sit back, relax, and enjoy the available panoramic sunroof, leather seats, heated steering wheel, heated and ventilated seats, and so much more. You also can enjoy Apple CarPlayTM and Android AutoTM, which lets you use voice commands to get directions from the Navigation System, make calls, send and receive text messages, and listen to music while you stay focused on the road ahead. To make this music sound even better there's the Infinity® Premium Audio System with 400-watts and 10 speakers. This system also comes with HD RadioTM technology and SiriusXM® Satellite Radio complimentary for three-months.
There are also a multitude of safety features to get you from point A to point B safely every time. To protect you when you're geared in reverse there's the Rearview Camera, Rear Parking Assistance System, and the Rear Cross-traffic Alert2. For lane control there's Lane Departure Warning3, Blind Spot Detection4, and Lane Change Assist5. These systems, and more, work together to produce a confident drive.
Be one of the first to test drive the redesigned 2016 Hyundai Sonata Hybrid for sale in Virginia at Pohanka Hyundai of Fredericksburg. Call us at 855-995-7284 today to schedule a test drive today!
1 HMA internal estimate.
2 The Rear Cross-traffic Alert system is designed to notify drivers of approaching cross-traffic behind the vehicle. When a vehicle is detected, it provides an audible warning and visual display warning. Rear Cross-traffic Alert is a supplemental system and the driver must still exercise extreme caution when backing up. Drivers must always turn and view oncoming traffic before backing up. Rear Cross-traffic Alert is active when the vehicle is in reverse and backing at a speed less than 6 mph. It may not detect all vehicles, depending on the size, angle, distance and speed of the other vehicle. In addition, Rear Cross-traffic Alert does not detect stationary objects or slow moving objects near the car, including pedestrians (including children), shopping carts, bicycles or baby strollers. The sensor will not function if it is blocked by foreign material, bicycle racks, luggage carriers, bumper stickers, mud or snow. Please see Owner's Manual for additional information.
3 Lane Departure Warning will not work under all circumstances. It functions when it is able to detect painted lane markings. It cannot function if the lane markings cannot be seen clearly, if the lines are faded, or during dusk without headlights on, with snow, rain, sleet, dust, leaves or standing water on road, sudden changes in brightness such as shadows, tunnel exits/entrances, low sunlight angle causing reflections, multiple lane markings or criss-crossed lines, tar crack sealer and cracked or broken road surfaces. It also may not function on very rough roads, when walls, curbs or concrete barriers are close by, or if following another car too closely. Since it "sees" the lane markings using a camera in the upper windshield area, it is imperative this area be clear and free of blockage such as stickers, dirt, snow, tinting material, markings and labels. Avoid putting objects on the dashboard that may reflect light or images onto the system camera area.
4 The Blind Spot Detection assists the driver by warning of other cars in the blind spot region. It senses the rear side territory of the vehicle when it is traveling over 20 mph. Lane Change Assist provides an audible and visual alert if the turn signal is activated and another vehicle in the blind spot is sensed. The turn signals must be activated for the Lane Change Assist to function. There are limitations to the function, range, detection and clarity of the system. It will not detect all vehicles or objects in the blind spot. Its operation depends on the size, distance, angle and relative speed difference between your car and other cars. Blind Spot Detection and Lane Change Assist may not operate if sensors are obscured in any way. Do not rely exclusively on Blind Spot Detection. Blind Spot Detection is a supplemental system and the driver must still be attentive and exercise caution when driving with it. It is important to always signal, look over your shoulder and through your mirrors before changing lanes. It is the driver's responsibility to be aware of the surroundings and ensure it is clear before changing lanes or directions. Blind Spot Detection is only meant to assist the driver in these responsibilities.
5 The Lane Departure Warning with Lane Change Assist is designed to notify the driver if the vehicle is leaving the lane of travel by audible and flashing a display signal.