2021 Hyundai Sonata First Look near Washington, DC

2021 Hyundai Sonata shown above with optional equipment.
What Can I Expect For the 2021 Hyundai Sonata?
The Hyundai Sonata has captivated the automotive industry, thanks to its consistent updates, revolutionary performance, and eye-catching outer shell. Since it is a staple on the market, we at Pohanka Hyundai of Fredericksburg are here to give you some details about the 2021 iteration that should be hitting our showroom sometime this year. If you have any questions about the latest and greatest midsize sedan, get in touch with our experts today. In the meantime, we will go over what we know now!
Exterior
One of the most exciting aspects of the 2021 Sonata is that it boasts available 19-inch wheels that give you a commanding stance that demands attention with every turn. On the SEL Plus trim, these components will be outfitted with standard 245/40 R19 Pirelli P Zero™ tires to give you full control over your time spent in the driver's seat. They are all-season options that grant you a healthy blend of performance, handling, and traction, which makes them perfect for inclement driving conditions. Plus, their variable size tread composition dampens the noise inside the vehicle and improves resistance against hydroplaning. As if that wasn't already enough, this model will support Hyundai Digital Key, which allows you to open your vehicle with your smartphone, set your preferred temperature ahead of time, and activate the panic alert button!
Performance
Now that you know a little more about the outer shell of the Hyundai Sonata, let's take a quick peek beneath the hood to get a better understanding of what mechanics are at your disposal. It is rumored that this ride will provide you with a choice between two Smartstream powertrains. The first is a 2.5L MPI/GDI engine that is estimated to release 191 horsepower and 181 lb.-ft. of torque at 4,000 rpm which will have you weaving in and out of traffic with some serious pep in your step. As if that wasn't enough, the available 1.6L T-GDI system is capable of unleashing 180 horsepower and 195 lb.-ft. of torque, thanks to the very first Continuously Variable Value Duration system. And, both of these powertrains will work in conjunction with an 8-speed automatic transmission.
Interior
Without further ado, let's climb into the cabin of the 2021 Hyundai Sonata to revel in the updates that are at your beck and call. For starters, you will have a 10.25-inch touchscreen monitor that is fully customizable, so you will be able to organize your applications, music, contacts, and so much more with absolute ease. You'll also have the opportunity to tap into cloud-based speech recognition, so your vehicle is always updated with the latest phrases and technology. Another feature you will really appreciate is your ability to pair two devices at once via Bluetooth® so you will be able to switch from music to phone calls with ease. As you can see, this ride comes packed with some of the latest and greatest features to land on the automotive scene!
We hope this 2021 Hyundai Sonata first look near Washington, DC, has made you as excited as we are! To sign up for more information, contact us at Pohanka Hyundai of Fredericksburg.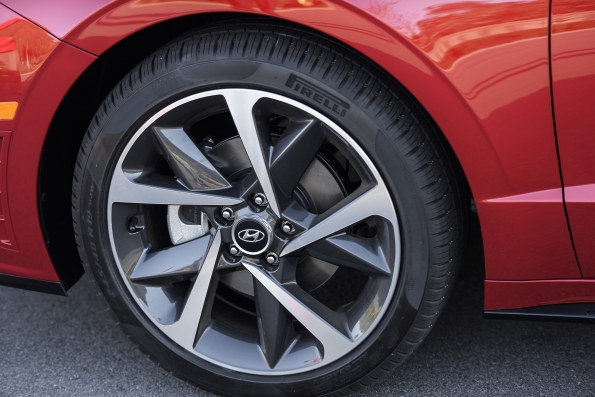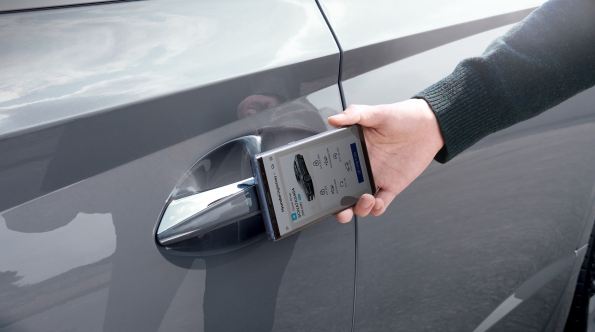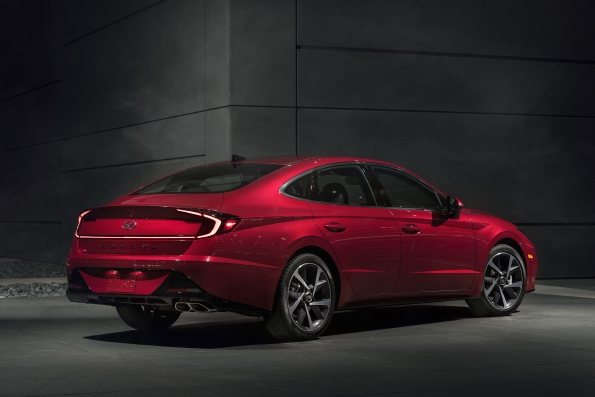 Bottom Photo: 2021 Hyundai Sonata with optional equipment.
Sales Hours
540-684-6275
| | |
| --- | --- |
| Monday | 9:00 am - 8:00 pm |
| Tuesday | 9:00 am - 8:00 pm |
| Wednesday | 9:00 am - 8:00 pm |
| Thursday | 9:00 am - 8:00 pm |
| Friday | 9:00 am - 8:00 pm |
| Saturday | 9:00 am - 6:00 pm |
| Sunday | 12:00 pm - 5:00 pm |
Testimonials
GOOGLE
8-10-2020
GOOGLE
8-10-2020
GOOGLE
8-10-2020
GOOGLE
8-10-2020
GOOGLE
8-10-2020
GOOGLE
8-10-2020
GOOGLE
8-10-2020
GOOGLE
8-6-2020
YELP
8-4-2020
GOOGLE
8-4-2020
GOOGLE
8-4-2020
GOOGLE
8-4-2020
GOOGLE
8-3-2020
GOOGLE
8-3-2020
YELP
8-3-2020
GOOGLE
8-1-2020
YELP
7-31-2020
GOOGLE
7-31-2020
GOOGLE
7-31-2020
GOOGLE
7-31-2020
GOOGLE
7-28-2020
GOOGLE
7-27-2020
GOOGLE
7-27-2020
GOOGLE
7-27-2020
GOOGLE
7-27-2020
YELP
7-27-2020
GOOGLE
7-27-2020
YELP
7-25-2020
GOOGLE
7-24-2020
GOOGLE
7-24-2020
GOOGLE
7-23-2020
YELP
7-17-2020
GOOGLE
7-16-2020
GOOGLE
7-16-2020
GOOGLE
7-16-2020
GOOGLE
7-16-2020
GOOGLE
7-16-2020
GOOGLE
7-16-2020
YELP
7-16-2020
GOOGLE
7-16-2020
GOOGLE
7-16-2020
YELP
7-16-2020
GOOGLE
7-16-2020
YAHOO
7-16-2020
GOOGLE
7-10-2020
Read More
* https://www.hyundainews.com/en-us/models/hyundai-sonata-2021-sonata