Auto Repair Service in Fredericksburg, VA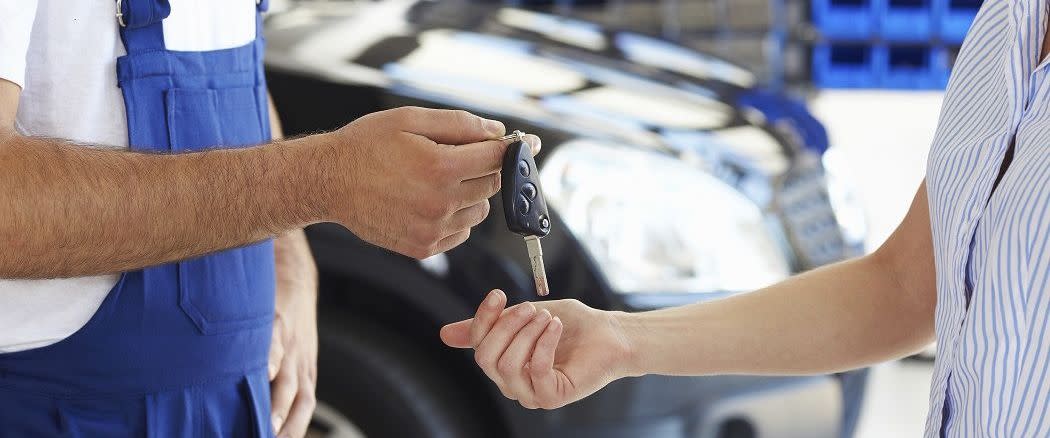 Service Hours
540-684-6279
| | |
| --- | --- |
| Monday | 6:00 am - 7:00 pm |
| Tuesday | 6:00 am - 7:00 pm |
| Wednesday | 6:00 am - 7:00 pm |
| Thursday | 6:00 am - 7:00 pm |
| Friday | 6:00 am - 7:00 pm |
| Saturday | 6:00 am - 7:00 pm |
| Sunday | Closed |
Whether you just need a quick tire rotation or an extensive transmission repair, the team of mechanics at Pohanka Hyundai of Fredericksburg is prepared to handle any job, big or small. We understand the important of regular auto repair, so don't hesitate to contact us if you have any questions before stopping by. Once you're here, we'll work hard and get you back on the open road as soon as possible!
Keeping up with preventative maintenance is one of the easiest ways to keep your ride in great condition year after year. Unfortunately, it's also one of the most neglected aspects of owning a car. Many motorists simply put off having their car, truck, or SUV serviced until what started out as a small issue has grown into something more serious. Therefore, to save yourself time and money down the road, bring your vehicle into our Service Department for all of its routine repairs! We can perform battery tests, oil changes, wiper replacements, tire rotations, and brake inspections, just to name a few.
If you're experiencing a more serious problem, let us lend a hand! In addition to basic services, we're also up to the task when it comes to bigger jobs like engine and transmission repair. In addition, our on-site Parts Department helps us cut down on the time it takes to get your vehicle up and running again, since we don't have to wait around for components to come in. If we do have to order-in a certain piece, we'll be sure to get it here as quickly as possible, so you're not left stranded without transportation.
Of course, offering all of these services is just the beginning of what we can do for you. As part of the Pohanka Value Package, we never require you to schedule an appointment with us before you come by for servicing. While we're working on your vehicle, you can take it easy in our comfortable waiting lounge and catch a few minutes of the game on one of our wide-screen TVs. Have a few young ones with you? Let them burn off some energy in our Kids' Play Area! We'll even give your car a complimentary wash, so it's squeaky clean when you get behind the wheel again.
In search of a professional auto repair service in Fredericksburg, VA? If so, be sure to visit the top-notch technicians at Pohanka Hyundai of Fredericksburg! Our family has been in the car business for nearly a century, so we firmly believe that we know what it takes to offer outstanding service.
Testimonials
GOOGLE
6-28-2020
YELP
6-26-2020
GOOGLE
6-26-2020
GOOGLE
6-26-2020
GOOGLE
6-26-2020
GOOGLE
6-26-2020
GOOGLE
6-26-2020
GOOGLE
6-23-2020
GOOGLE
6-20-2020
YAHOO
6-13-2020
YELP
6-13-2020
GOOGLE
6-12-2020
GOOGLE
6-12-2020
GOOGLE
6-12-2020
GOOGLE
6-9-2020
GOOGLE
6-8-2020
GOOGLE
6-5-2020
GOOGLE
6-5-2020
GOOGLE
6-5-2020
GOOGLE
6-5-2020
GOOGLE
6-5-2020
GOOGLE
6-2-2020
GOOGLE
5-31-2020
GOOGLE
5-28-2020
GOOGLE
5-28-2020
GOOGLE
5-27-2020
GOOGLE
5-27-2020
GOOGLE
5-27-2020
GOOGLE
5-14-2020
GOOGLE
5-8-2020
GOOGLE
5-8-2020
YELP
5-2-2020
GOOGLE
5-2-2020
GOOGLE
5-1-2020
GOOGLE
4-29-2020
YELP
4-27-2020
GOOGLE
4-27-2020
GOOGLE
4-24-2020
GOOGLE
4-23-2020
GOOGLE
4-22-2020
GOOGLE
4-22-2020
GOOGLE
4-22-2020
YELP
4-17-2020
GOOGLE
4-17-2020
YELP
4-17-2020
Read More